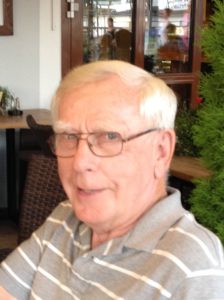 Eugene Bjorn Thordahl has been in the hide glue business for probably as long as anyone else alive. He started out his career in Gowanda, NY working as a chemist for the renowned Peter Cooper Corporation. Peter Cooper's glue factory was originally built in 1874, and over the years built and acquired many other glue plants on into the late 1980s. In those days, hide glue was used in just about everything from matches to bowling pins even the U.S. and foreign governments purchased hide glue for the war efforts. Peter Cooper Corporations had a virtual monopoly over the hide glue business, and Eugene was at the forefront of it! Starting with the company in the 50s, through the years Eugene continued to work his way up through the company to become Executive Vice President after holding just about every job in-between.
Eugene was one of the last remaining when Peter Cooper closed its doors in the late 80s. He was the "Hide Glue Man", and the vast and unique knowledge that he had acquired over the years was and remains unbelievable! Eugene decided that there was still a place for his knowledge in the market, and so he started Bjorn Industries. Realizing that the remaining quality glue companies only sold hide glue in extremely large bulk, and that most luthiers and craftsmen that value and use this special glue could not possibly ever use these large quantities (nor do they usually supply the knowledge needed for the extensive applications of hide glue), he started selling the glue in more reasonable quantities along with all the free hide glue "know how" to go with it!
He has faithfully sold product to loyal customers all around the world. As a result, over the years, he has been featured in magazines, consulted iconic musical instrument companies and museums, presented in a television documentary, and was invited by and shared at the Smithsonian on the topic of what else – hide glue! Today Eugene is still at it and is just a phone call or quick email away. Our very own "Hide Glue Man" is a treasured resource and always ready to answer all your questions regarding hide glue or the production and application of it.
Just give him a call at 704-953-2026 or send him a email at info@bjorn.net.